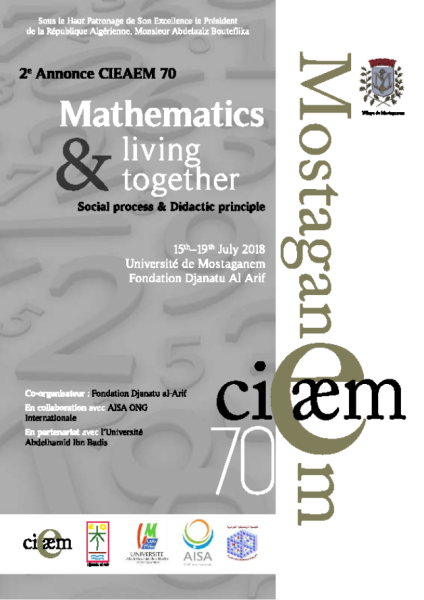 Van 15 tot en met 19 juli 2018 heeft het Commission for the Study and Improvement of Mathematics Teaching (CIEAEM) en AISA NGO International de jaarlijkse internationale congres georganiseerd van de internationale wiskunde-onderwijs federatie. Deze vond plaats in de algerijnse kuststad Mostaganem met meer dan 26 deelnemende universiteiten van over de hele wereld onder het thema: Wiskunde en Samen Leven.
Wat is het verband tussen wiskunde en samen leven? Welk soort wiskundeonderwijs kan bijdragen aan het samen leven in vrede? We nodigen u van harte uit dat te ontdekken en te bezinnen door te klikken op de volgende link waarin u de samenvattingen en resultaten van het congres kunt teruglezen (Engels - Frans).






Klik hier voor de samenvatting: http://math.unipa.it/%7Egrim/CIEAEM%2070_Pproceedings_QRDM_Issue%202_Suppl.3?fbclid=IwAR0lJSyuuTJFnMHjXMTZmFBVxnZjNhiFfZM9mtkgnGwGn9q6T5pJRoHK9_0
U kunt hieronder ook een Engelstalige introductie over het congres vinden.
Introduction. "Mathematics and Living Together": Why, How, What ?
The CIEAEM was created in 1950 just after the Second World War by mathematicians, psychologists, teachers from many devastated and war-ravaged countries in Europe, all faced with major difficulties in the teaching of mathematics, reconstruction of society and even entire countries: lack of teachers, materials, and many refugees, displaced persons and orphans.
Leading figures such as Piaget, Choquet, Gategno, Dieudonné, and later Krygowska, Freudenthal and Castelnuovo, gathered to reconsider the teaching of mathematics in the light of these events.
From the beginning the founders of CIEAEM tried to restore the « Living together » by working with German teachers and mathematicians and in 1953 the meeting of the Commission took place in Germany in Calw.
The current situation in the world has several points in common with that of the post-war period, and Europe is confronted with problems quite similar to those at the time of the creation of CIEAEM. Living together has become a necessity. It is a challenge for education in general and the teaching of mathematics in particular.
What is living together ?